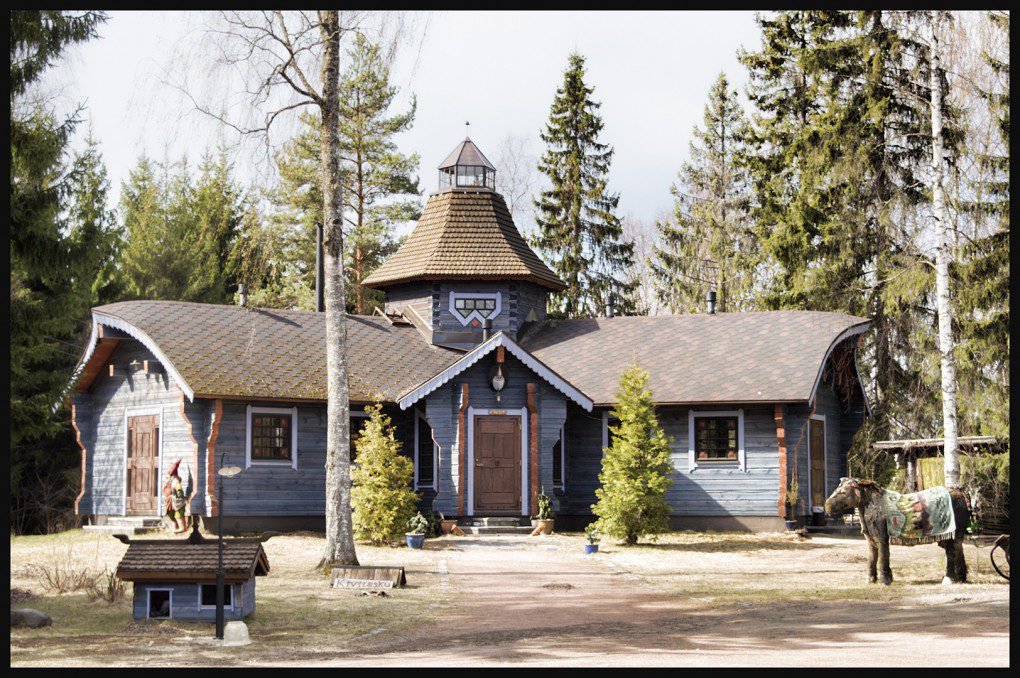 Kivitasku welcomes you!
Villa Kivitasku

,

Celebrations

for up to 60 people: At
your disposal: Piano, Projector, Wi-Fi, Stereo, Kitchen

Catering


services available. You
can bring your own (alcoholic) drinks

Haikusauna

Outdoor
sauna with a hot tub with nearby lake

Yard

Big

safe yard for outdoor activities /

Animals

Meet our sheep and chickens

Accommodation

Sleep in a cabin or a log house
Inquiries by email or
phone for more details and prices:
email:
info(a)kivitasku.com/english
phone: 050 5237740
Mella Nousiainen
Welcome to visit!
Ancient Finnish log building skills are taking new shapes in Muurame´s Kivitasku.
Inspired by the mythology of Kalevala, as well as Zen, Tibetan and Western masters, it is built with Karelian generosity, welcoming
visitors all around the year.
Since 1986 Hannu Nousiainen, with a little help from his friends,
has been working to realize his vision. A family of buildings closely knit to the nature has slowly grown on a forest hill overlooking a small lake.
Large, heavy stocks of aspen wood have been used to build the huge sauna on a cliff leaning toward the lake. Up to 25 persons at a time can enjoy the relaxing, sweet vapours from the uniquely built fireplace – a new take on the most ancient theme of Finnish culture.
The artistic skills of his wife Mella have found expression in figures made of wool inside the fascinating Villa Kivitasku, the house of elves and brownies of old Finnish tales. This enchanting building has a particular three-winged shape and and a sexagonal log dome lighted by a roof window. It´s fireplace is a storytelling itself… if you feel like listening.
The small two- storied guesthouse is built the form of aitta, lightly built lodgings for farm workers and maids beside a traditional Finnish farmhouse. They are kept warm for occasional winter visitors, too. The wood workshop is where the details of the buildings are being completed and doors, tables and benches are built to measure, to fit
the unique character of Kivitasku. The sons, Sampo and Juho Nousiainen are taking part in the building, as well as having new, groundbreaking design activities of their own.
The family house (shown occasionally to visitors by appointment) has eight rooms, a huge open fireplace in the livingroom, plus music and service areas. In front of the house you find a large patio , built after a trip to South America – you can see and feel the influences, and if you get lucky, hear some great music being played, live… A comfortable home for the family, and a place for friends and guests to come from all over the to enjoy good company, the warmth of the fireplace in winter, and to play music and celebrate all through the luminous night, in summer.
Part of the original vision was to be able to disconnect from the stress of the world and the workplace, and give visitors a chance to
participate. So the sauna and handicraft buildings are large enough for groups of visitors – meetings, celebrations, relaxing, retreats..
And the kitchen is ready to serve you with some treats too!
Notre histoire :
L'établissement Kivitasku est une fusion de plusieurs traditions. La longue tradition finlandaise des maisons en rondins croise celle des refuges mythologiques du Kalevala mais aussi celle des bâtisses tibétaines et des grands espaces américains. Kivitasku reçoit toute l'année, faisant ainsi honneur à la générosité carélienne.
Hannu Nousiainen s'est attelé à la construction des six maisons dès l'année 1986. Il voulait, grâce à l'aide de ses ami.e.s, donner une forme solide à son rêve, à une vision. Plusieurs maisons ont alors vu le jour en haut d'une colline qui surplombe un petit lac, en se fondant petit à petit dans l'immense forêt.
La tradition des saunas finlandais poursuit son histoire avec l'immense sauna à fumée qui a rapidement pris place en contrebas de la colline. Construit en bois de tremble, il renferme une grande cheminée et un espace permettant à 25 personnes de profiter des grandes vapeurs chaudes en même temps !
Tandis qu'Hannu Nousainen supervisait l'avancée des travaux, Mella Nousainen, sa femme, a pu s'épanouir en tant qu'artiste au sein de la Villa Kivitasku en lui donnant l'aspect d'une maison enchantée, un refuge pour elfes, lutins et autres figurines de laine feutrée. Le bâtiment comporte trois ailes et un toit hexagonal donnant sur une lucarne, par laquelle la lumière inonde l'intérieur de la villa. L'immense cheminée mérite une histoire à elle entière que vous aurez plaisir à écouter, peut-être, lors d'une visite.
Les deux petites pensions situées à gauche et à droite de la Villa rappellent les aitta finlandaises, des remises que l'on retrouve à côté des fermes en Finlande et qui servaient à l'hébergement des employés de la ferme. Elles sont chauffées et vous accueillent durant toute l'année. Il y a également l'atelier de charpente de Sampo Nousiainen, le fils d'Hannu et Mella dont vous pourrez admirer les façades recouvertes de tavaillons. C'est ici que Sampo a fabriqué les bancs, les portes et les tables des différentes bâtisses de Kivitasku. Sampo et son frère Juho ont largement contribué à la construction de Kivitasku et continuent d'y apporter leur touche de design.
La maison familiale comporte, quant à elle, huit pièces avec une immense cheminée au milieu du salon. L'espace est également conçu pour accueillir un.e musicien.ne. Après un voyage en Amérique du Sud, Hannu et Mella décidèrent d'ajouter un patio au-devant de la maison : Peut-être aurez-vous la chance d'y entendre de la musique live. Leur idée, la voici : Ils voulaient construire une maison confortable pour leur famille, capable d'héberger les amis de l'étranger ou des villes éloignées et partager la belle chaleur du feu en hiver ou fêter les nuits lumineuses, grâce à la musique, en été. Vous pourrez visiter la maison sur demande.
Dans sa vision, Hannu Nousiainen souhaitait construire un espace dans lequel il serait possible d'être loin du stress que l'on connait au quotidien ; il voulait un espace ouvert à la famille, aux ami.e.s et aux visiteurs. Ainsi… Kivitasku vous attend à bras ouverts pour vous proposer tout ce dont vous rêvez ! Bienvenue