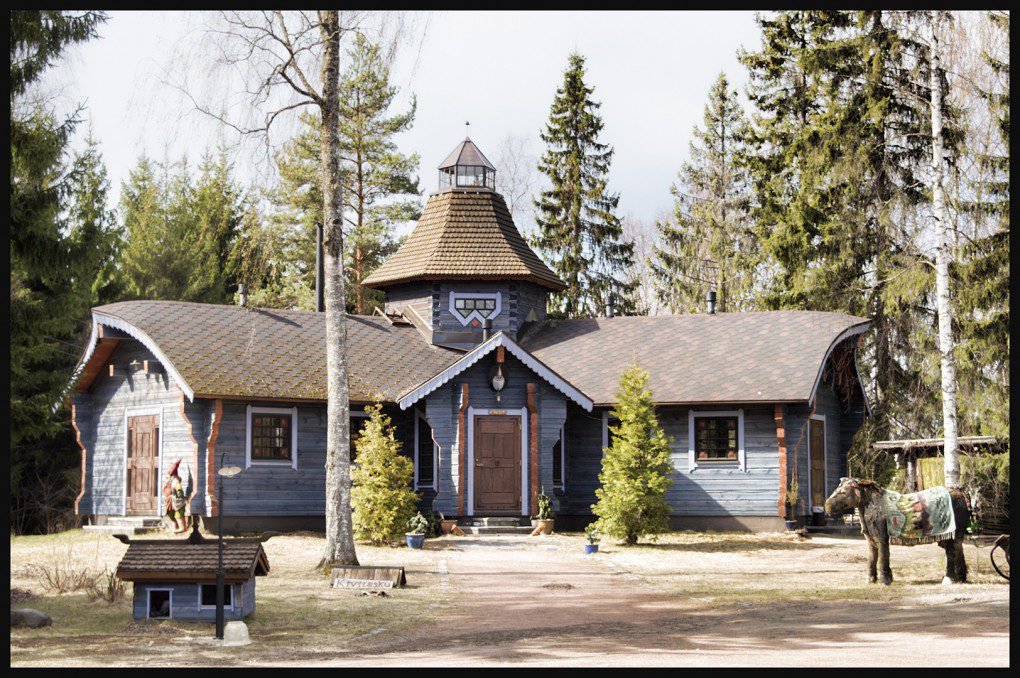 Ancient Finnish log building skills are taking new shapes in Muurame´s
Kivitasku.
Inspired by the mythology of Kalevala, as well as Zen, Tibetan and
Western masters, it is built with Karelian generosity, welcoming
visitors all around the year.
Since 1986 Hannu Nousiainen, with a little help from his friends,
has been working to realize his vision. A family of buildings closely knit to the nature has slowly grown on a forest hill overlooking a small lake.
Large, heavy stocks of aspen wood have been used to build the huge
sauna on a cliff leaning toward the lake. Up to 25 persons at a
time can enjoy the relaxing, sweet vapours from the uniquely built
fireplace – a new take on the most ancient theme of Finnish culture.
The artistic skills of his wife Mella have found expression in figures
made of wool inside the fascinating Villa Kivitasku, the house of elves and brownies of old Finnish tales. This enchanting building has a particular three-winged shape and and a sexagonal log dome lighted by a roof window. It´s fireplace is a storytelling itself… if you feel like listening.
The small two- storied guesthouse is built the form of aitta, lightly
built lodgings for farm workers and maids beside a traditional Finnish
farmhouse. They are kept warm for occasional winter visitors, too.
The wood workshop is where the details of the buildings are being
completed and doors, tables and benches are built to measure, to fit
the unique character of Kivitasku. The sons, Sampo and Juho Nousiainen are taking part in the building, as well as having new, groundbreaking design activities of their own.
The family house (shown occasionally to visitors by appointment) has eight
rooms, a huge open fireplace in the livingroom, plus music and service areas. In front of the house you find a large patio , built after a trip to South America – you can see and feel the influences, and if you get lucky, hear some great music being
played, live… A comfortable home for the family, and a place for friends and guests to come from all over the to enjoy good company, the warmth of the fireplace in winter, and to play music and celebrate all through the luminous night, in summer.
Part of the original vision was to be able to disconnect from the
stress of the world and the workplace, and give visitors a chance to
participate. So the sauna and handicraft
buildings are large enough for groups of visitors – meetings,
celebrations, relaxing, retreats..
And the kitchen is ready to serve you with some treats too!
Kivitasku welcomes you!
Welcome to visit!
Handcraft workshop Kivitasku
In Kivitasku you find:
Sheep and chicken
Finnish mytology
Handmade gifts and souveniers made by wool and wood
Unique woodarcitekture and a big exotic sauna
Exhibition of finnish nature